Guy Gormley
Publication, 2012 | Residency, 2013
In 2012 we supported the publication of Guy Gormley's artist book Jack Follow. In 2013 he was subsequently invited to Spoleto.
Born London, England 1985, Gormley studied at Central St. Martins, Brighton Univeristy and completed a BA in Fine Art at Goldsmiths College of Art in 2009. He works primarily with photography and music. His DJ name is Enchante and he co-founded the club night and record lable Top Nice. He also runs the curatorial platform Brickhouse with Thomas Bush. He has produced three artists books and a collaborative publication with the poet Rachel Allen. He exhibits regularly in the Uk and abroad.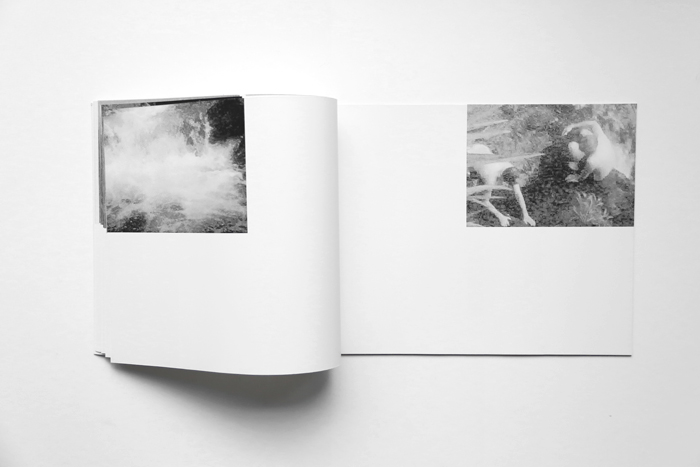 Above: a spread from Jack Follow. 
The images were produced during a trip to Unst in the Shetland Islands, the most Northerly point of the U.K. The book is in three sections, each one a narrative consisting of a continuous run of images taken over a few minutes, these function in a similar way to film stills, describing periods of time. The sections are prefaced by the file names, which contain the date and times they were made.
Jack Follow is a hand made book designed by Thomas Bush. It was made in an edition of 100 and is staple bound. The cover is rubber-stamped with a bitmap image.
The book can be purchased here.
During his residency Gormley, informed by his time in the LeWitt Studio, began making objects.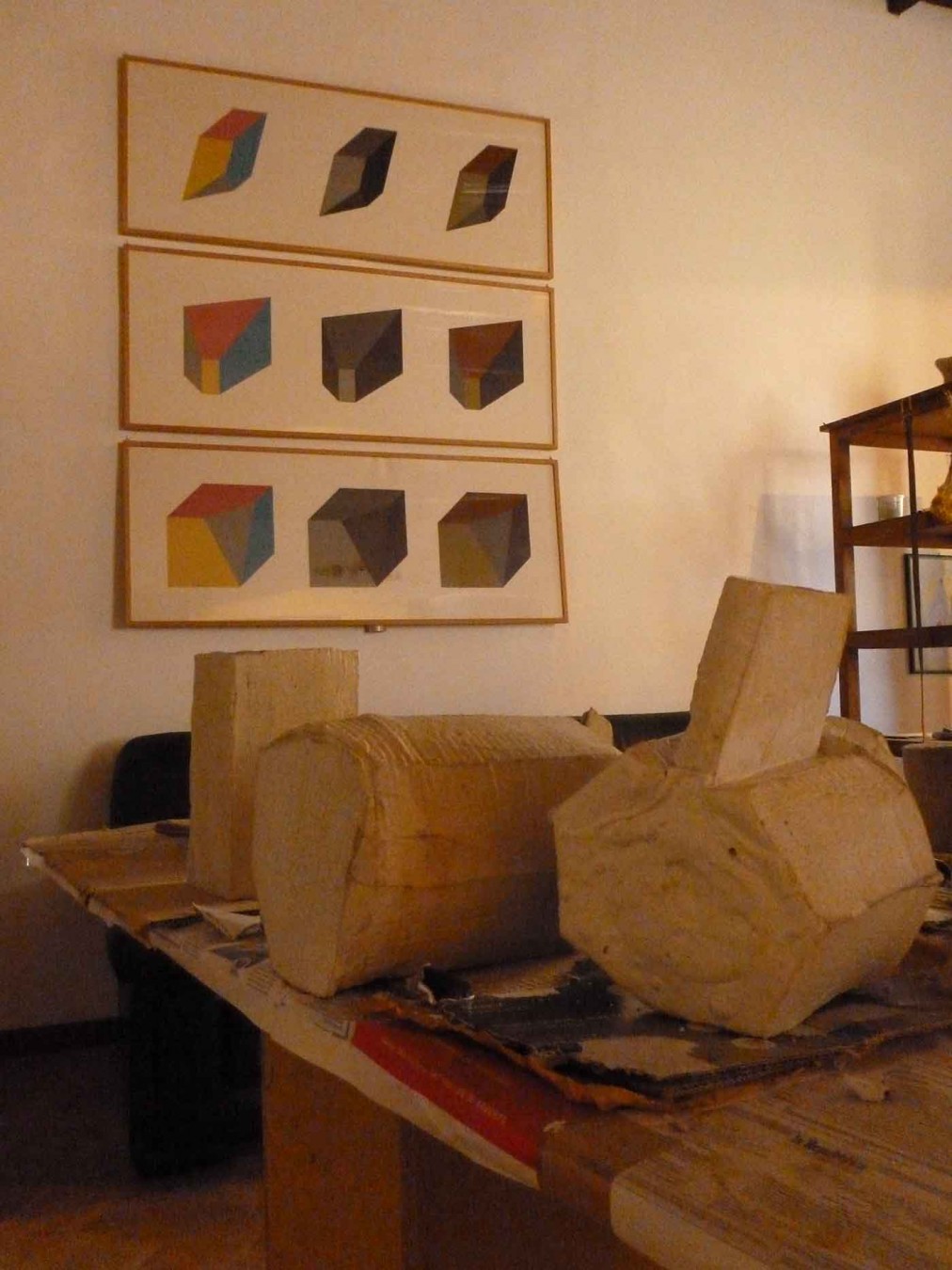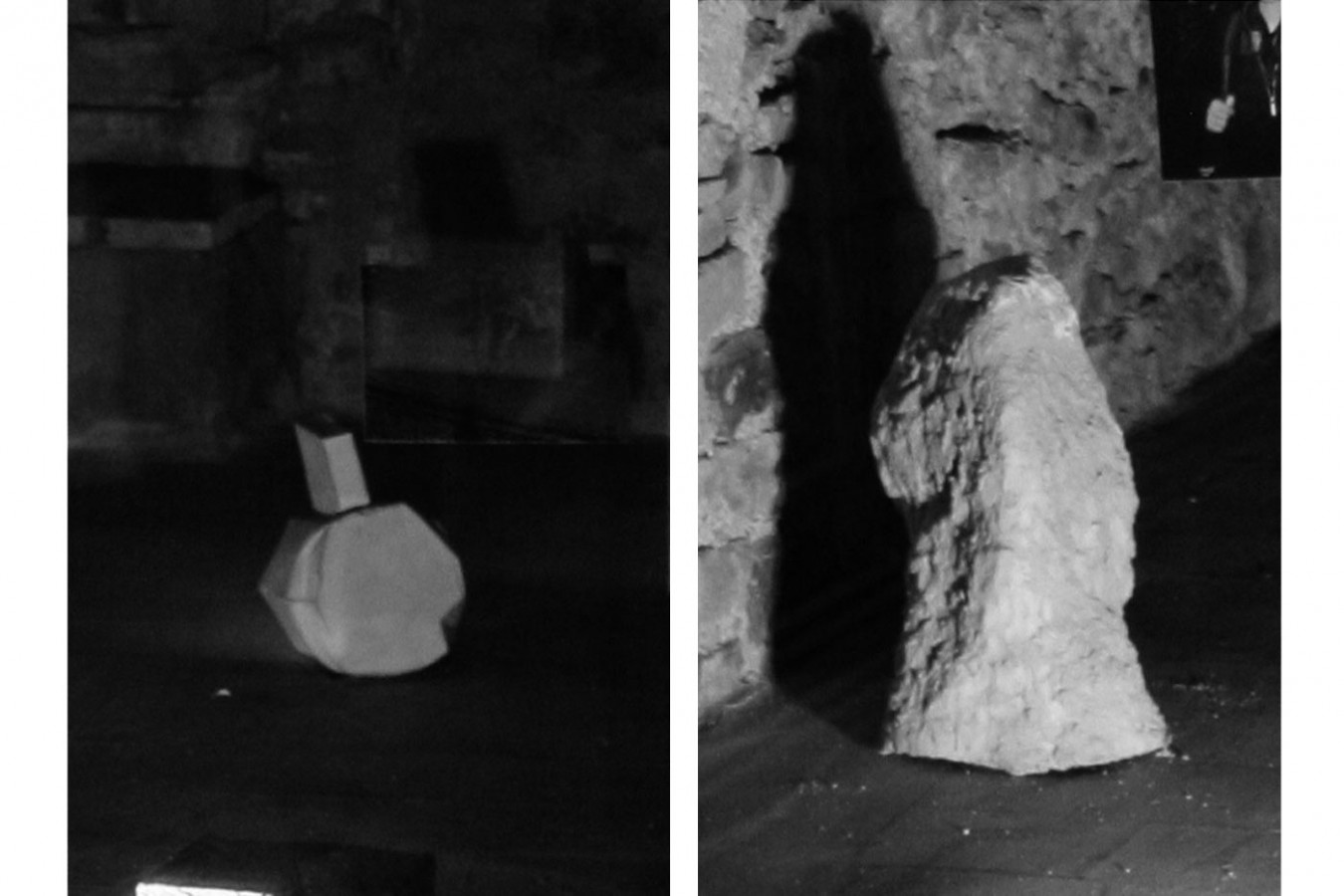 His conversations with young people in Spoleto led him to stage live events combining photography, sculpture and music in social contexts, making use of derelict spaces in the town.
In his first event, 7.9.13, Gormley blocked out the vaulted medieval ceiling of a disused brewery in the old town of Spoleto. He erected a makeshift cardboard roof and showed photographs looping on a tv of the outskirts of Spoleto's new town.
Read the conversation below between the artist and residency curator Guy Robertson.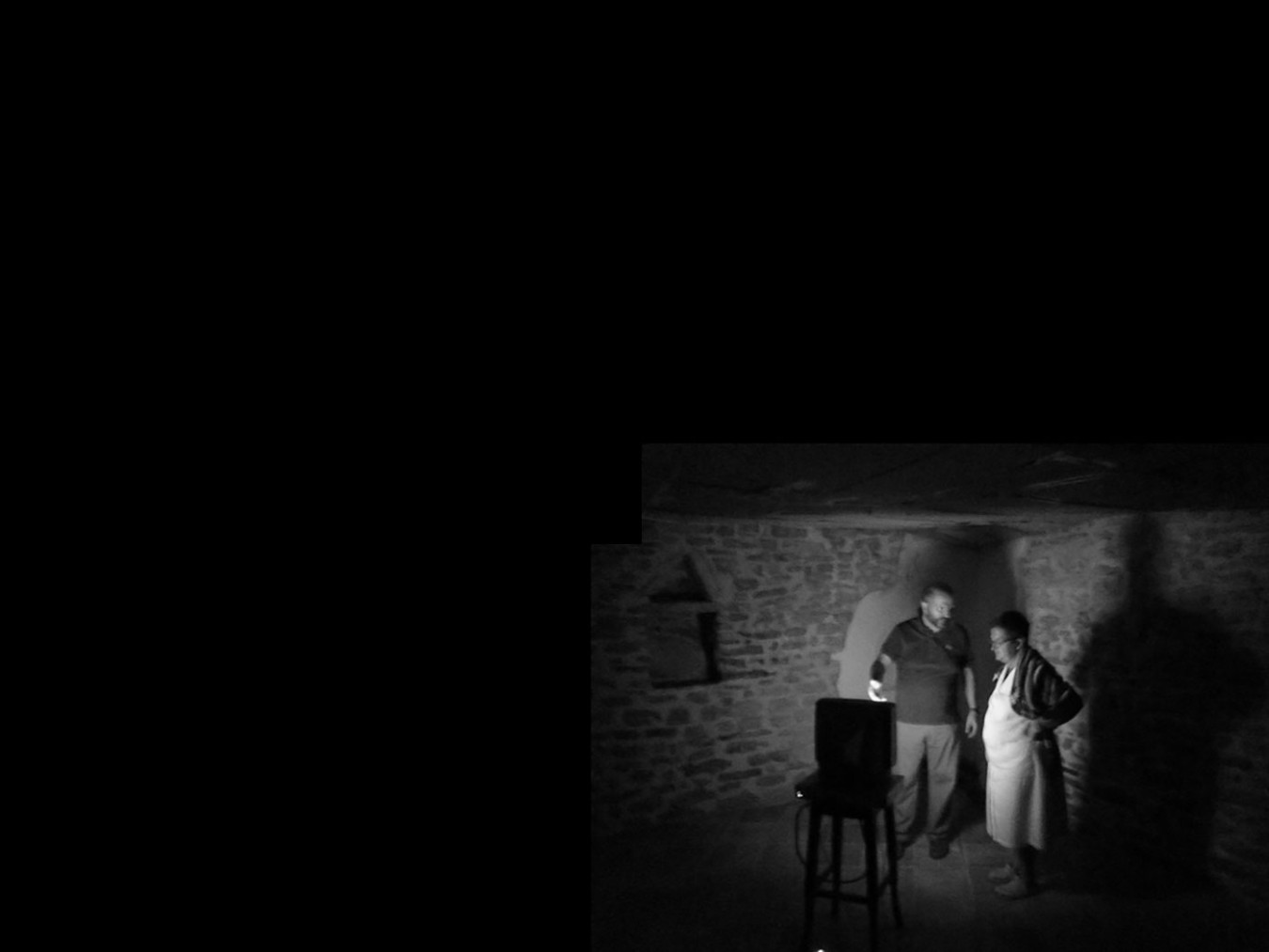 GUY ROBERTSON / GUY GORMLEY – Conversation, Spoleto, September 2013. 
GR Was it an event an installation or a party?
GG I always called it an event. It's neutral. 'Party' feels different, its more specific – for fun and social stuff. An event could be a party but it could also be a lecture or something.
GR In one room there were photographs looping on a television screen and there was a lowered ceiling made out of cardboard. The room you were using for this event actually had one of those typical Spoletan vaulted ceilings.
GG Yes. Lowering the ceiling was about taking ownership of that architecture, which you see everywhere in Spoleto: ignoring it or blocking it out somehow. I think that's how people read it: covering up the things that people often treat with the most importance – which is the history of a place. But history is one of the things, in Spoleto, that seems to get in the way of doing stuff.
GR And its more easily felt in a town which is so steeped in its own history – with history comes people who are empowered by that history and people who aren't. As a country Italy has one of the richest cultural heritages in the world.
GG Did you know that in Rome they want to expand the Metro, but they can't because of all the ruins – they can't dig any tunnels – so the city is in a kind of cage. And that's the capital. It feels like an allegory for the country itself.
GR The photographs on the television screen were playing on a loop on a TV with its back to you as you walked into the room. Each one of the pictures was being panned across. What did they depict?
GG Well, this guy who came to the event was saying that the pictures I'd taken were of a suburb of Spoleto where the land in dispute. He said that after the earthquake in '97 the council had given all the building contracts to Neapolitan companies through some Gomorrah connection. The local people had been up in arms about it and as some sort of apology the council had given them this area of Spoleto to develop without any controls. So they'd done quite a lot of crap stuff, I think, and so that's why the area looked funny and that's probably why I'd photographed it.
GR I suppose in the same way that with the lowered roof you were denying the natural heritage of the building you worked in, the photographs were looking at an area of Spoleto which isn't normally looked at; its not the Aqueduct, its not the Amphitheatre, its not La Rocca: the spaces which are known, which if you're passing through Spoleto as a tourist you might photograph. It ties into discussions we've been having about the sense you get of young people feeling disempowered.
GG Our friend Tommaso was saying that anything that gets young people up here is good. He's quite passionate about it because he's someone who has stayed in Spoleto whereas a lot of his friends have left.
GR As well as making your own work you put on events in London, curating with Brickhouse and hosting the club night Top Nice: so to you its kind of natural to go out and put on events. Was your impetus to do an event here in Spoleto to show that, look, you can do this kind of thing?
GG Maybe yeah, part of it, but its lots of things happening at once. I wanted to try and cause a few conversations so I activated the bar, or added tension, by two interventions: firstly this video of CCTV-like footage which presented Spoleto as a place with problems, as a paranoid place. I didn't really know what the problems were but by presenting it as such you make people think about what the problems might be. Secondly, by covering the ceiling and bringing it down to a claustrophobic or oppressive height. So you have this sort of social open place but with these things which would gear conversation a certain way.
GR What about the music?
GG The music was all Italian post-punk from the early eighties. It is really good but disaffected, disenchanted music. I feel like the young people in Spoleto don't have a space to exchange songs, you know; you need a scene to have things happen – there's no point saying something if no one listens.
GR What were your responses on the night from locals who came?
GG I was really wary of pushing any politics because I'm under informed; brand new to the place. But the points that were being suggested, I wouldn't say made, we're relevant and people really engaged with it.
In the final live event of his residency Gormley, in a disused recording studio with a makeshift bar and sound system, incorporated the sculptures he had been making in the LeWitt Studio with his own photographs as well as those taken by local artists.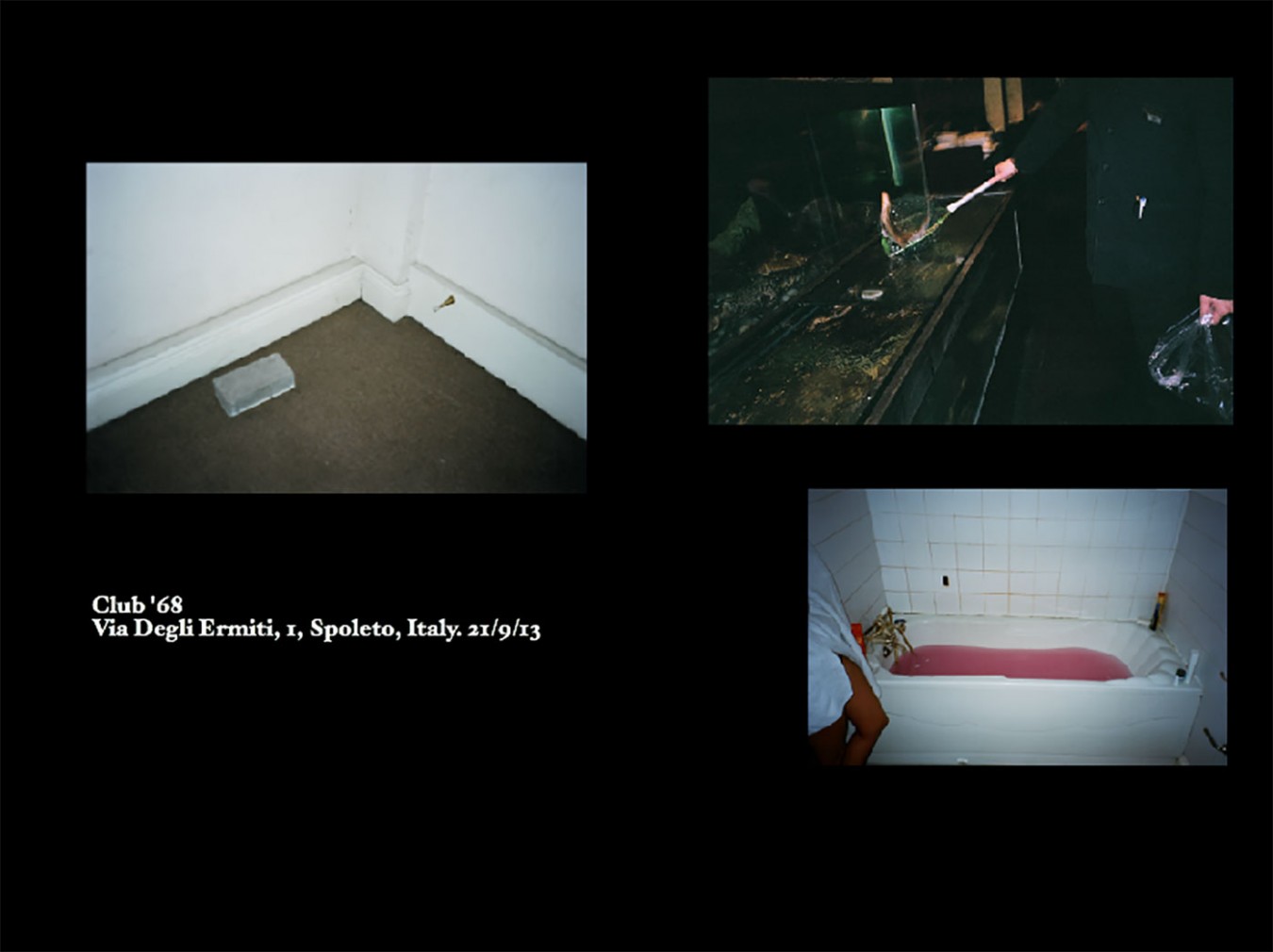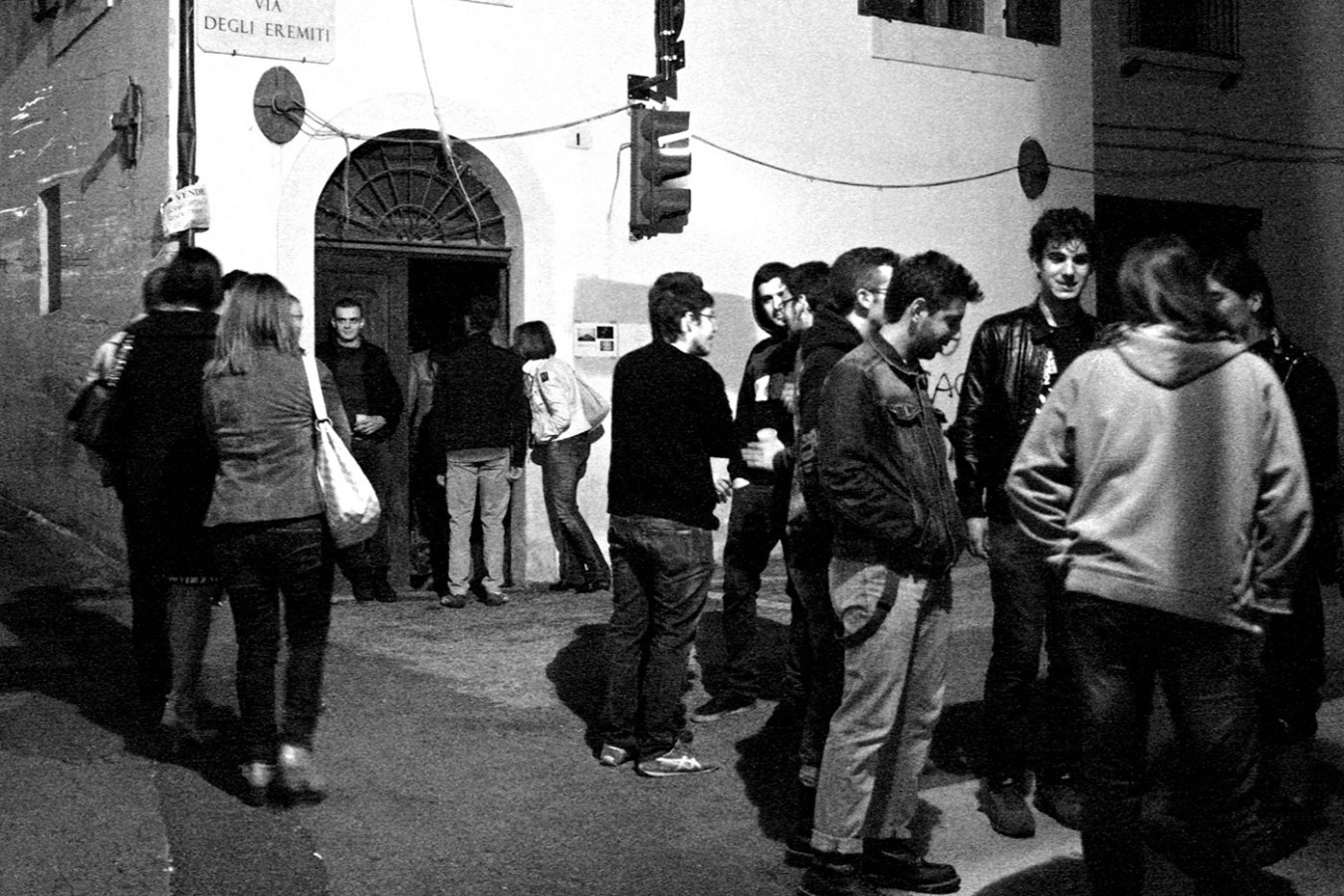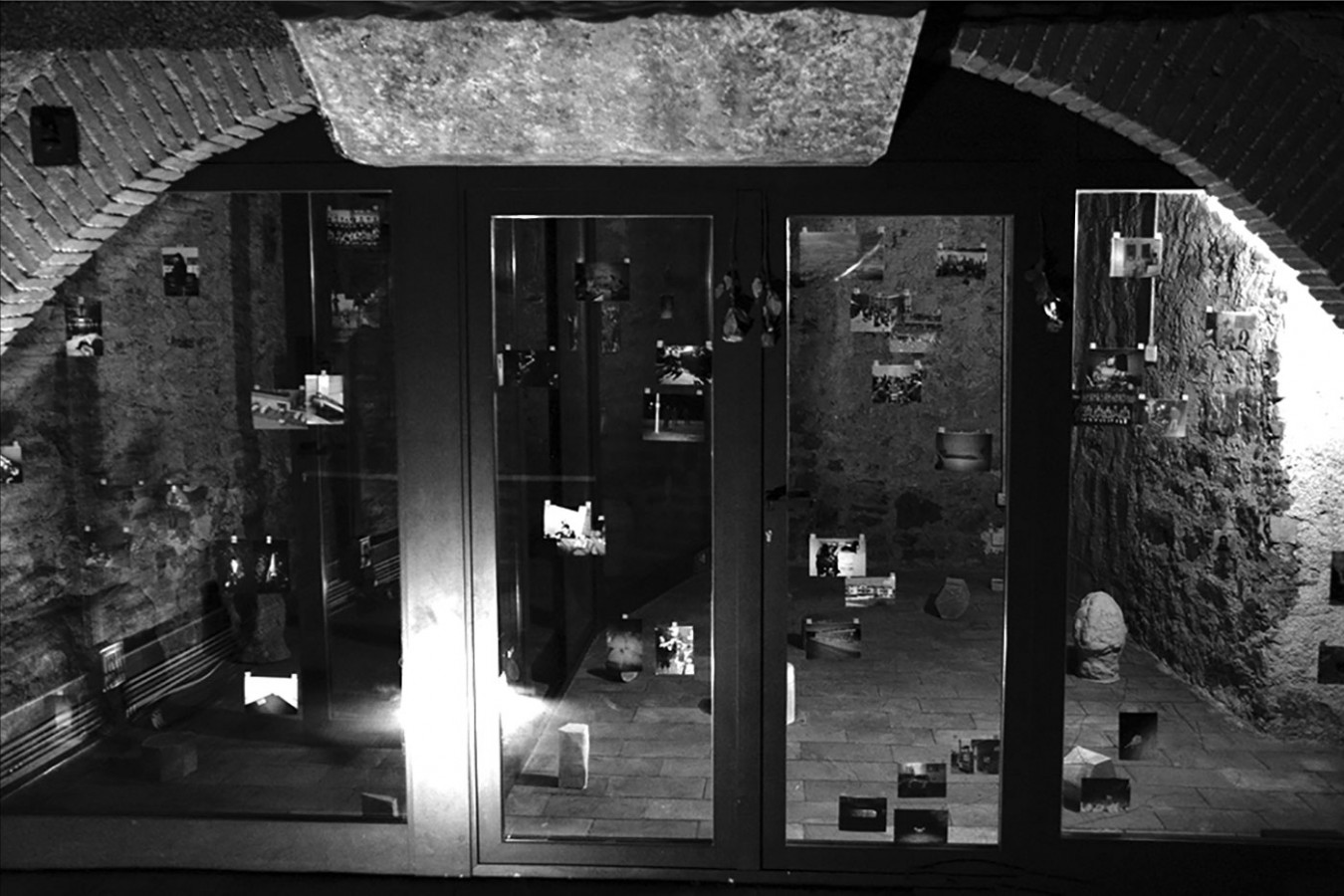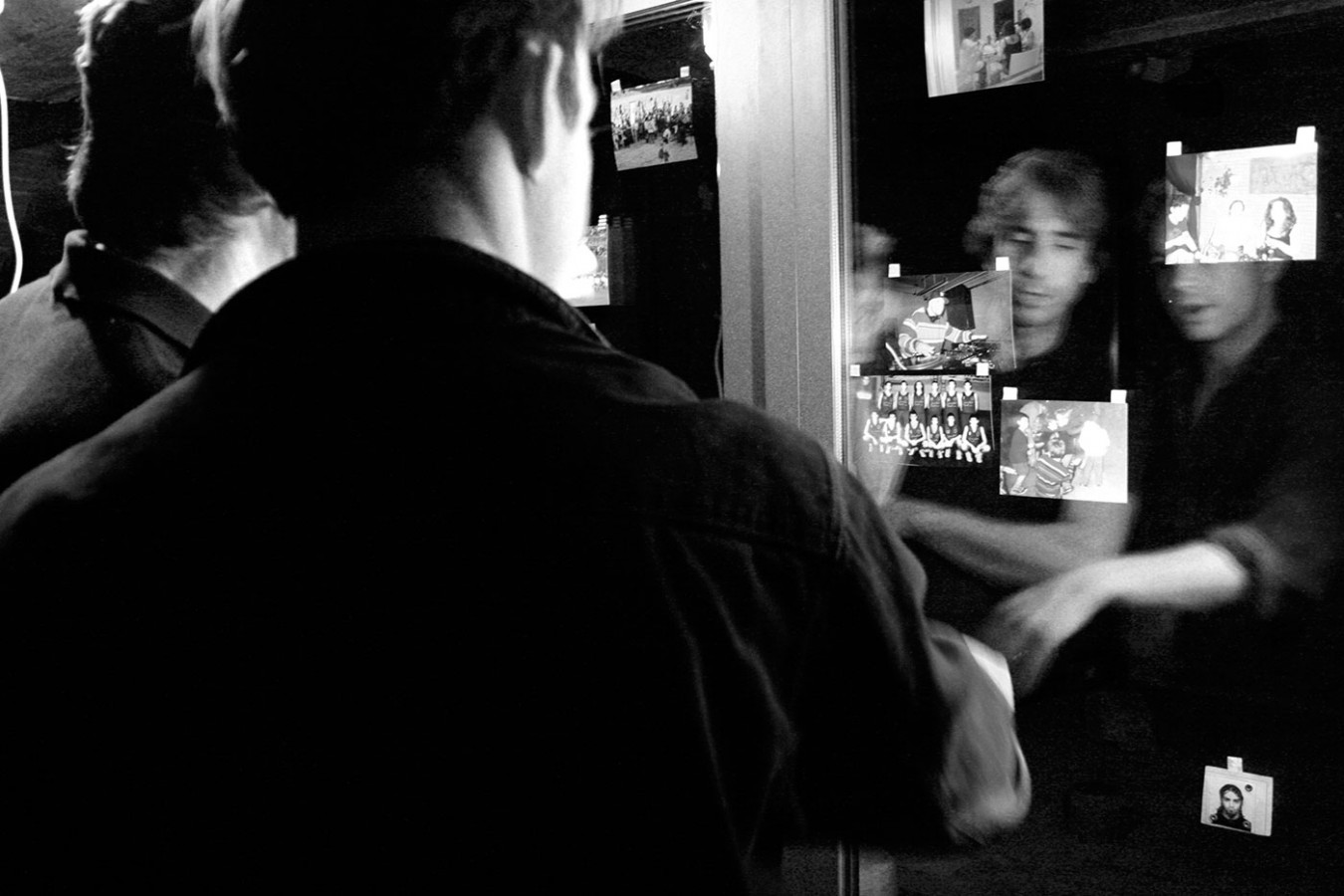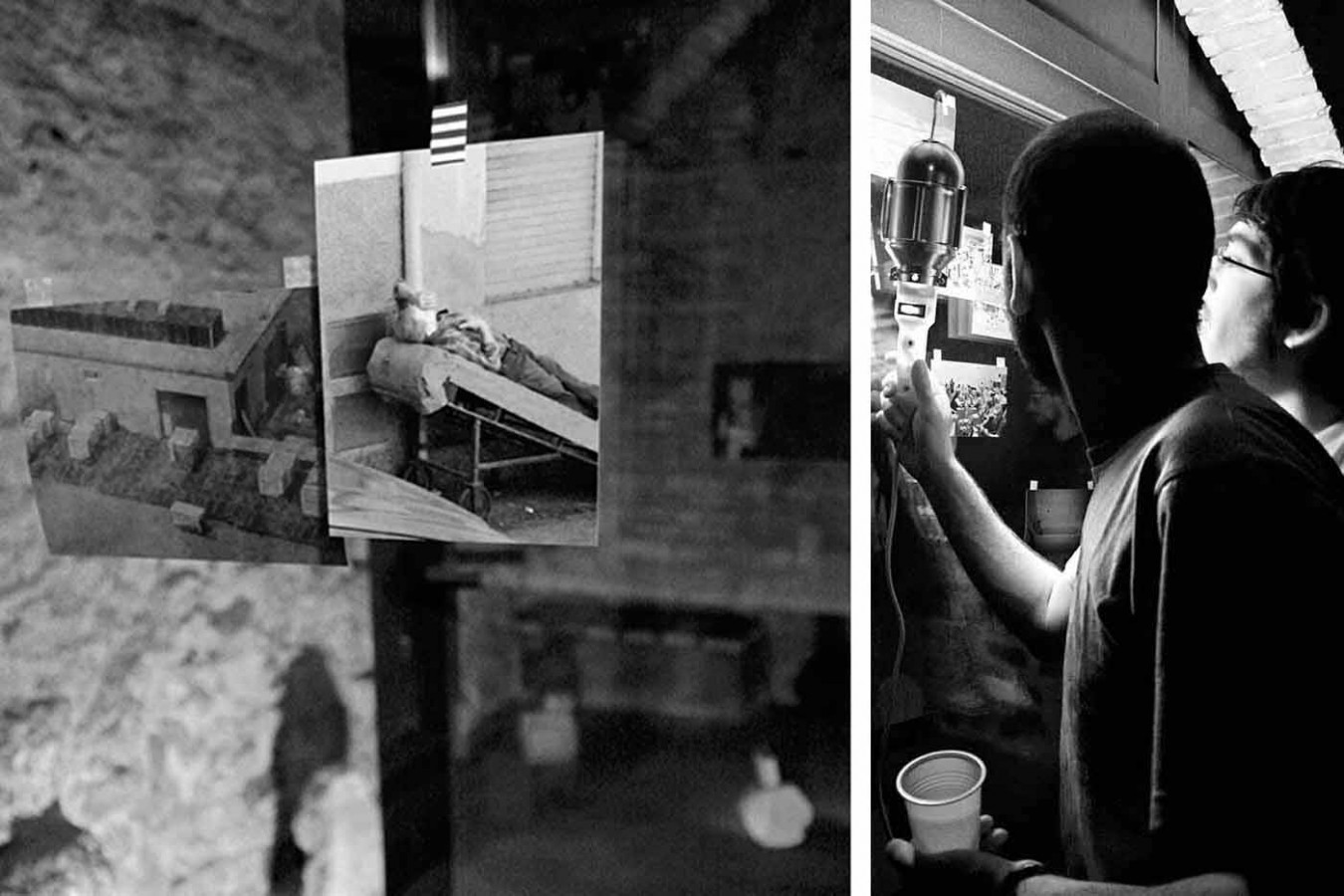 A description of the Club 68 event by the residency curator:
After dinner we went to the old 'Cantina' – the disused space on Via Brignone where there used to be a recording studio. It is underneath the Sol LeWitt studio. Guy Gormley hosted an event there called Club '68. He wanted to provoke questions about youth engagement in Spoleto – to set a scene which would encourage conversation. He closed off the glass walled rooms where the musicians would have sat to record instruments, and posted up photographs on the glass. Half of the photographs were his own, depicting friends or everyday scenes, and the other half he had found in Spoleto, many from the newsfeed of a local persons Facebook account who he had become friends with. Behind the closed glass doors was an arrangement of concrete sculptures which he had been making – some looked a bit like rubble, but more purposeful, in unusual shapes. Others were amorphous, like busts but lacking a specific identity. It reminded me of looking through the glass floors you find in Spoleto, in the library or the pharmacy, at bits of Roman remains, a comparison I know Guy had intended. The music that he played was Italian New Wave, precursor to mainstream Club music and politicised in its own way. There was a bar in the space and people talked with increasing liveliness about the work. The sculptures and photographs could be intimately viewed with handheld lights (some people found pictures of themselves in the installation). We had flyered the event the evenings previously, particularly in the busy Piazza Garibaldi, and we had kept in contact with the young people we were meeting throughout the month – as a result we had a good turn out.
Guy Robertson, extract from residency diary notes